Brainwave
Blended learning for primary school children
Brainwave is a 6-level primary course that supports children in learning English through content developed in line with brain-based research. A media-rich blended solution further enhances the language learning experience in the classroom and at home.
Key features
Key language and skills are presented and consolidated through sections such as Grammar on the brain, Phonics Fun, Skill Builder and Talking Point, which encourage students to practise and use English.

The Competency Focus in the Teacher Edition highlights a selection of activities where competencies such as creativity, social responsibility, thinking skills, learner autonomy and collaboration are developed throughout the unit.

Cross-curricular content on CLIL pages provides opportunities to learn about various subject disciplines and is further enhanced by supporting videos, simulations and projectable posters.

The online Homework Zone for students contains reading mazes, language games and child-focused listening material which helps consolidate classroom learning.

The content and media-rich Technology Pack including a Progress Journal, Test Builder and Transition Pack for each Level, equips teachers with functional assessment tools.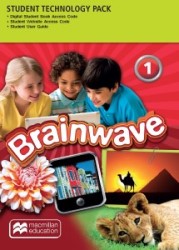 Student Technology Pack
The pack includes access to the Digital Student Book and the Online Homework Zone via access codes, maximising learning potential and enjoyment for an enhanced interactive experience. Available for use at school or at home and for use on tablets.