Teaching Breakthrough Plus in Taiwan
Shih Chien University Kaohsiung Campus,
Steven Lung-hsun Hsu – English Language Lecturer
I've been teaching Elementary and Intermediate level students for over seven years at the Shih Chien University Kaohsiung Campus, in Taiwan. My students are Taiwanese university students – who are mainly freshmen and sophomores taking general English courses.The classes are large with around 50 to 60 students per class, who take two hours of English a week. The classes usually consist of mixed-ability groups, who are low in motivation and quiet during lectures. Most students who take courses of General English may lack motivation in learning English due to their low level in the language.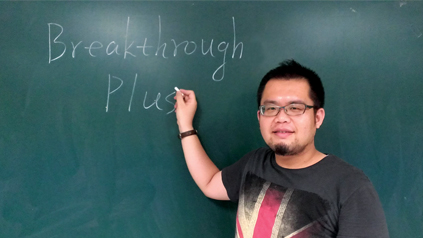 Why does the course work for you and your students?
Students can benefit from the authentic materials included in each unit, which means they can apply easily what they have learnt outside of the classroom in a real context. This goes a long way to motivating even the lowest level of students.The books cover four skills of English and, as a teacher, it is easy to select what my students need and want according to particular students' level of English knowledge. As my classes are large and comprised of mixed-ability students, this flexibility is very useful.
Do you have a favourite feature, unit or activity from Breakthrough Plus?
I especially like the listening sections – the speech, intonation and dialogues are so real that I think they make my students feel like they're immersing themselves in the target language environment. In addition to the Student Book, I use the Powerpoints and video clips which come with the course. They play an important role in catching the attention of my students.
What is it about the course that made you choose it? What sets it apart from other general English courses?
I mainly use Breakthrough Plus series in General English courses rather than professional ones as students may feel more at ease to study English and it will be easier to build up their confidence in learning English. Both students and teachers are satisfied with the process and results of learning and teaching from using the Breakthrough Plus series.