Doodle Town
Think, explore, create and learn!
Doodle Town is a captivating 4-level pre-primary course designed to stimulate the imagination of young learners and inspire learning through a range of visual, audio and hands-on activities.
Using a language-rich syllabus that incorporates artwork and drawing, Doodle Town promotes memory, experience, imagination and observation by blending phonetics, songs, stories, projects and values into an easy-to-follow and rigorous curriculum. This diverse pedagogical approach helps form well-rounded, confident and successful young learners of English, introduces them to collaboration, learner independence, problem solving, and encourages creativity.

Doodle Town was nominated as a finalist in the British Council 2018 ELTon Awards in the Excellence in Course Innovation category. Selected from over 110 ELT products, publications and services from around the world.
Key features
Children explore English through music, movement, creative thinking tasks, dialogues and values, developing their language and building a wide skill-set to prepare them for academic success.

A unique combination of Literacy Skills and Math Skills Pads allows children to reinforce new language, at the same time developing their mathematical and literacy awareness.

Let's Doodle and Let's Talk activities introduce young learners to collaboration, learner independence and problem-solving, developing their communication skills and encouraging creativity.

CLIL lessons, aligned to the US English Language, Arts and Math Common Core Standards, introduce language in a meaningful context and provide learners with useful academic, subject-specific language for the future.

The Student Practice Kit, Letter to Parents and detachable parents' pages provide a strong school-home link so learning continues outside of the classroom.
Learn more about Doodle Town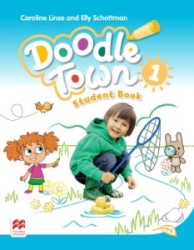 Student Book Pack
The Student Book features four loveable characters that will take your class on a journey of discovery! The children will explore English through music, movement, dialogues, stories, values, subject-based content (CLIL) and creative thinking. The Pack contains the Student Book and downloadable Student Practice Kit.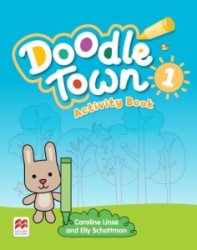 Activity Book
The Doodle Town Activity Book practises and consolidates the language, values, and concepts introduced in the Student Book encouraging children to think, explore, create and learn.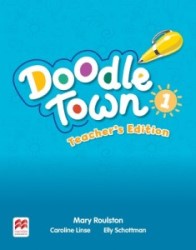 Teacher's Edition Pack
Doodle Town Teacher's Edition provides the tools for you to create a rich environment where children can thrive and become inquisitive, happy, independent individuals and confident language learners. The pack contains the Teacher's Edition, Poster Pack, and access to the Teacher Resource Center.