Dave Spencer - Social and Emotional Learning (SEL) in the Secondary Classroom
Would you like to be able to help your teenage students build up their confidence and self-esteem, manage their levels of stress and anxiety better, become more resilient and open-minded, communicate and collaborate more effectively, empathise more, and listen more closely to one another? This session will examine different ways to start developing all of these skills by paying attention to Social and Emotional Learning (SEL) in the English classroom. It will include example activities from the new Macmillan course for Secondary students, 'Gateway to the World'.
3 March 2021
10:00-11:00 GMT
3 March 2021
15:00 - 16:00 GMT
After studying languages at Oxford University, David Spencer trained to be a Secondary School teacher. He then moved to Spain where he has been living and teaching ever since. He continues to teach teenage students every day in a school near Madrid. Dave began writing courses for Macmillan in 1994. His latest series is the 2nd Edition of Gateway, a highly successful multi-level course designed to prepare teenage students for exams and life after school. Dave has given talks to teachers in twenty-eight countries and is active on social media at www.facebook.com/macmillangateway .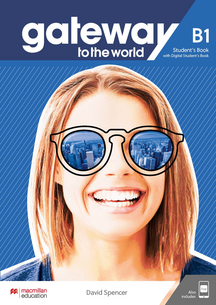 Gateway to the World
Your trusted guide to SUCCESS.
The new course for teens from Dave Spencer.
If you are visiting from Spain, please click here.