Gateway to exam success at GPOA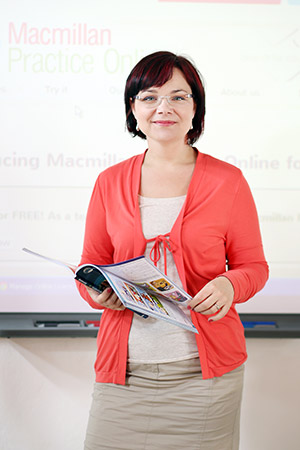 GPOA - Znojmo, Czech Republic
Eliška Krausová - English and German Teacher
Tell us about your school and your students.
I teach at the GPOA Secondary School and Secondary Pedagogical School in Znojmo, in the south of the Czech Republic, one of the most prestigious schools in the region. My students are aged 14-19 and most of them are studying English for their school leaving exam.
What challenges in your course influenced you to look for a new solution?I was looking for something more because the coursebook I was using before Gateway was insufficient for my students' needs. I kept using too many additional materials and my students seemed to be improving at a very slow rate. Then a colleague of mine recommended using Gateway and because she was very happy with the book I thought I'd try it out.
Did Gateway fulfil your expectations?
Yes, it did. I have not yet found anything about the course that I don't like. On the contrary, I keep finding new things that inspire me!
What benefits have you experienced from using Gateway in your classes?
The most important benefit for me is that the course offers complete preparation for the Maturita exam, which is the Czech school leaving exam. I don't need to find or prepare any extra materials.
The Teacher's Book includes great ideas for warmers at the start of lessons and photocopiable activities for each unit. I also like the way that the Student's Book presents and practises new grammar and vocabulary and then offers extra practice in the Workbook, with exam type tasks that come up in the students' Maturita exam.
The Maturita exam also tests students' knowledge about certain topics and Gateway really helps them with this preparation through the 'Click On' sections in the Student's Book. By the time my students reach the B1 level, they have all the language and exam skills for the exam, but also acquire all the general knowledge they need in the exam. Another aspect of the coursebook I like is that it teaches students many expressions, phrasal verbs and idiomatic expressions which are natural and used by native speakers.
What benefits have your students experienced from studying with Gateway?
They are offered an entire curriculum and are ready for the final exams without having thousands of extra worksheets. They like how communicative it is and that it makes them think. Gateway does not introduce topics in an old-fashioned or boring way, but instead includes modern topics and trends, which really motivates my students. The course not only teaches them English, but also gives them ideas about new concepts. It definitely motivates even the less motivated learners.
The exercises are ordered in such a way that they are not just improving their grammar and vocabulary, but also naturally getting better at speaking and writing. For example, when they have to produce a piece of writing, the 'Writing' section in the book gives them both ideas and the language needed to reach a good result. They are not learning passively, but are actively and instantly using new language. Gateway also helps them improve their spoken fluency through frequent discussion activities.
Would you recommend Gateway?
I certainly would. I would recommend it even to teachers who are worried that by changing coursebooks they would need to spend more time on preparation. It is worth it because Gateway will help them deal with many teaching problems and issues that they might be having at the moment!