SBL and English Language Centers, Algiers, Algeria
Rabie Oumoussa - School Director and Owner
Tell us about your classes and your students.
At SBL and ELTC Language Schools in Algiers, we've been using all levels of Open Mind and the Mind Series.
Our students range from under 20 to over 50 year olds, and are mixed groups. In addition to Algerian students, we have students from other parts of Africa, Syria, and Asia, including China and Korea.
What are your favourite parts of the Open Mind course?
My favourite features are the inductive grammar and life skills sections from the series. Overall, the course material is very well presented and easy to follow through the short notices, which are very helpful. The books are colourful, visually attractive and pleasant to teach from. Of everything, the life skills and the inductive grammar inspired me the most.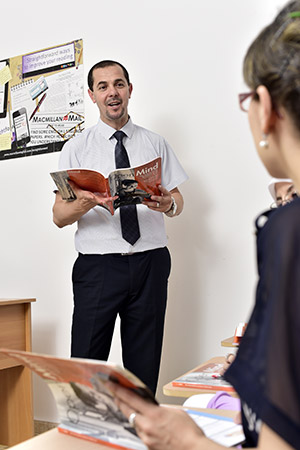 What do your students get from learning English with Open Mind?
Most of our students need English for work, and also their studies - in Algeria and abroad. Others are interested in English because it's the most widely used foreign language in the world. Classes are of mixed ability, but all students are interested in learning and curious. Most of them want to improve their speaking so anything with speaking is popular with them. They also like the pronunciation and grammar sections.
Why does the course work for your classes?
Most of our teachers like the easy-to-use methodology and the instructions, which are well laid out.