Direct to Series
A more interactive way to study for exams
Direct to IELTS is a concise and interactive course designed to make best use of learners' study time in preparation for the IELTS exam.
Written by experienced IELTS authors, this innovative and practical course combines print and online materials to prepare students efficiently for all formats of the IELTS exam. Taking into consideration the IELTS student's busy schedule, Direct to IELTS is a carefully planned fast-track to IELTS confidence and examination success.
Key features
Practice of all exam writing task-types and annotated model answers are provided in the Writing Bank.

Unit Reviews contain further practice of the Writing, Speaking and Reading content and Vocabulary and Language Focus sections provide a structured method to retain the new material.

Exam practice and a wide range of innovative and interactive exercises to develop exam skills are available through the IELTS Skills App.

Online learning support is easily accessible through the course website which includes a downloadable Grammar Reference section, four computer-based tests and workbook activities to complement Student's Book learning.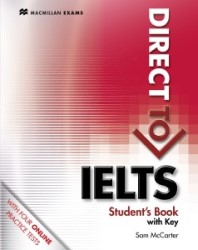 Student's Book with Key + Webcode Pack
The Student's Book aims to improve skills and knowledge and provide added confidence when preparing for the IELTS exam. Review sections reinforce material being learnt, while a webcode provides access to the Direct to IELTS website, where test papers and extra resources can be found. This Student's Book comes 'With' an answer key.

Teacher's Book + Webcode Pack
The Teacher's Book contains detailed teaching notes of the Student's Book along with complete answer key and listening scripts. It also includes photocopiable exercises and progress tests to extend the learning and strengthen student understanding. A webcode for online access to four computer-based practice tests and other resources is available.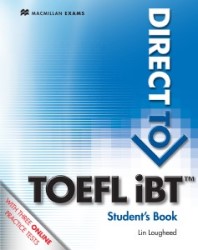 Student Book and Webcode Pack
Direct to TOEFL iBT is a concise course combining print and online material. The accompanying website includes 3 online TOEFL iBT practice tests for an authentic test experience, accessed through a unique code contained within the Student's Book. This book is ideal for students hoping to attend American English-speaking universities.