Our new IELTS preparation course combines the successful elements of the Ready For...series and an experienced author team to ensure students aiming for IELTS bands 5 -6.5/7 are ready for success!
All for skills are systematically and progressively developed and practical in each unit, while in-depth exam training is presented in the 'What to expect in the exam' and 'How to go about it' help boxes. There is a complete IELTS grammar syllabus, and vocabulary and word-building skills make up a key part of the course.
Key features
A two-page review section at the end of each unit with exam-style tasks

'Ready for...' sections focus on each IELTS exam paper, giving extra support and tips

A special emphasis on word-building, collocations and phrasal verbs, paraphrasing, synonyms and polysemy

Topic-based wordlists

Model answers, graded by an examiner, provide excellent support for writing

The Workbook offers practice of the language presented in the Coursebook and further writing and reading practice

The Teacher's Book comes with five photocopiable revision tests and a full final test in IELTS format, all of which include a listening test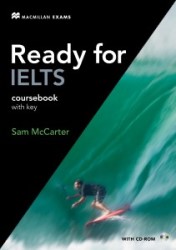 Student Book with Key Pack
The Ready for IELTS Coursebook aims to prepare students in the IELTS Academic exams with 14 motivating topic-based units that develop the core skills and familiarizes students with exam task-types. Accompanying the Coursebook is an answer, along with an attached CD-ROM that offers further practice of the exam papers.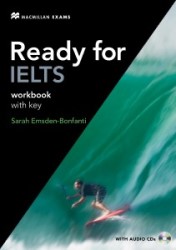 Workbook with Key + CD Pack
Ready for IELTS Workbook provides students with the right material and tools needed to effectively prepare for the IELTS examination. With exam practice in every unit, extra listening practice on the included audio CD and thorough consolidation of grammar and vocabulary, this is the prefect guide for student success. Included is an answer key.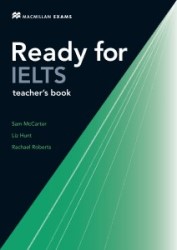 Teacher's Book
Ready for IELTS is a comprehensive book which provides teachers with the right material and tools needed to prepare students for the IELTS examination. With five photocopiable tests, suggestions on how to use the Coursebook in class and complete answer keys, this is the prefect guide for teacher's looking to lead their students to success.