English World Class
A visually stunning and innovative six-level primary course for the Middle East
English World Class is a new edition which has been specifically adapted with due regard to cultural sensitivities in the Middle East. It is an integrated print and digital English language learning series for primary schools. It uses best-practice methodology to encourage effective classroom teaching.
Active, whole-class learning is supported by grammar and skills work applied in natural contexts. The highly visual printed resources are complemented by digital material for use with an interactive whiteboard and extensive online resources for teachers. Packed with practical, course-specific resources, the English World Class online teacher's resource centre provides tools to help teachers to manage classroom realities and to meet the needs of their pupils.
Key features
Informative, cross-curricular and cross-cultural content means that students learn about the world through English

'Learning to learn' pages in the Workbook help pupils develop strategies such as scanning and thinking skills

Twelve posters, one for each unit, play a central role in the teaching of new vocabulary and the presentation of dialogues

A Dictionary for each level further promotes independent learning and develops valuable strategies for later study

The Grammar Practice Book at each level consolidates pupils' learning

At levels 5 and 6, more reading material is adapted from real-life sources and different reading genres such as plays and newspaper articles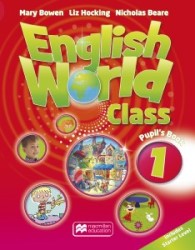 Pupil's Book Pack (including Starter Level)
The Pack contains a Starter level book and level 1 Pupil's Book with 12 units. Each requires 8 lessons and is designed to be taught over a 2 week period. The key skills of reading,writing,speaking and listening are covered throughout the course. These elements are presented in the book so that teachers have a clear objective for every lesson.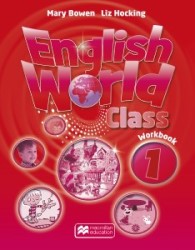 Workbook
All work covered in the Pupil's Book is reinforced by exercises in the Workbook. These are designed to be introduced and explained by the teacher and then to be completed independently, in the classroom or at home. They allow children to work at their own pace, providing teachers the opportunity to see what children can achieve when working alone.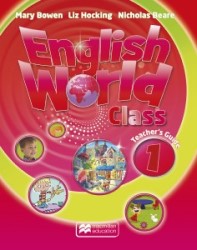 Teacher's Guide and Web Code Pack
The English World Class Teacher's Guide contains step-by-step teaching notes for each lesson. The English World Class website, which is accessible through a code in the Teacher's Book will offer up-to-date teacher development and classroom resource materials.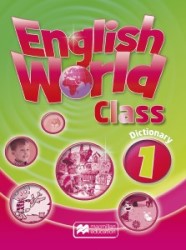 Dictionary
The key vocabulary in English World Class Pupil's book is presented in the English World Class Dictionary, an illustrated booklet designed to help children focus on words learnt in each unit and to help with revision and practice.