Happy Campers
Sing and learn and play together. Happy Campers, friends forever!
Happy Campers is a 7-level primary series that uses a unique musical programme to create a positive and memorable classroom experience while consolidating new language skills.
With a methodology centred on front-loading language presentation and musical imagery repetition, Happy Campers develops a child-centred community and encourages a positive attitude toward English language learning. Clear objectives, a gently paced syllabus and frequent practice opportunities make it easy for children to learn and consolidate English.
Key features
Musical activities provide 'memory hooks' for vocabulary recall and retrieval, making new language easier to remember.

The Skills Book further develops the four skills via Picture Talk, Happy Reader, Happy Writer and Word Work lessons that practise and help master selected key language.

Regular project lessons develop children's creativity and collaboration skills, making their learning experience a richer, more positive one.

A strong home-school link is built through the game-based Inks App which provides extra vocabulary practice at home.

The Flipbook combines Student's Book and Activity Book material in one publication, ensuring that young learners always have practice activities at hand.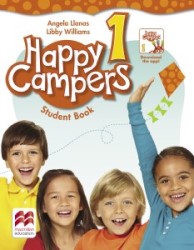 Student Flipbook
The Student Flipbook combines both the Student Book and The Language Lodge (workbook) components into a single, practical flipbook. Students are given multiple opportunities to work with materials such as songs, comic strips and readings to consolidate their learning. Language is presented through the use of echoes, songs and cheers for retention.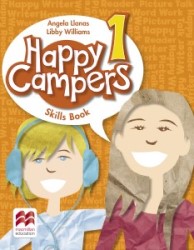 Skills Book
The Happy Campers Skills Book works in conjunction with the Student Flipbook. Colourful illustrations and photos present engaging activities for further listening, speaking, reading, writing and word work practice. Exercises include reading and writing short texts as well as fun, puzzle-like activities.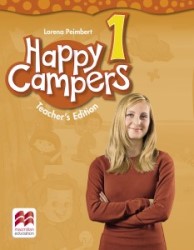 Teacher's Edition Pack
The Teacher's Edition Pack is designed to provide teachers with carefully structured lesson plans and training, taking teachers through entire classes from warm-up to wrap-up. It contains interleaved notes for the Student Flipbook (the Student Book and The Language Lodge) and the Skills Book, including answer keys for all of the activities.