Getting Ready for B2 First
What's the best way to prepare my students for the transformation exercise in the Use of English paper? What tips can you give for the Listening paper? If you have questions like this about the Cambridge B2 First exam, you might find the answers you need in this question and answer session with me, Roy Norris, author of Ready for B2 First 4th edition and Straight to First. I'll be addressing your concerns about preparation for the exam based on 20 years of coursebook writing and many more of teaching.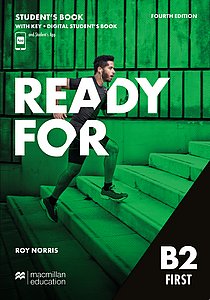 Ready for B2 First
The bestselling Ready for... series has been helping students prepare for their exams for over twenty years. This revised Fourth edition of Ready for B2 First continues to provide the in-depth exam training for which the course is known. It keeps all the popular features of the 3rd edition whilst adding innovative digital support, updated reading and listening texts, new pronunciation sections and improved page design for easy navigation.