Putting tests to test – on formative assessment in online teaching
School (even online) cannot exist without assessment. We need to test students for diagnostic purposes, but 'traditional' tests are far from perfect: they often fail to offer constructive feedback, cannot be carried out too often and certainly don't make students feel positive. This is where formative assessment comes to the rescue. It creates a learner-friendly environment, helps students progress linguistically as well as in their life skills. In this webinar, Karolina Kotorowicz explores the basics of formative assessment and shows practical tips for an everyday classroom.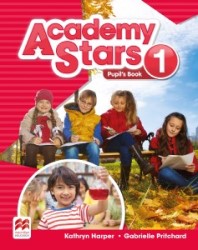 Academy Stars
Academy Stars is a lively and interactive primary course that combines a comprehensive skills syllabus with the innovative Graphic Grammar approach to support young learners as they aspire to excellence.