Grammar Goals is a new six-level grammar series for children aged 6-12 years. With editions in both British and American English, it presents and practises grammar in lively and meaningful age-appropriate contexts that reflect pupils' real lives and interests. Linked to the Cambridge and Trinity external exam syllabuses, Grammar Goals offers regular exam-style practice tasks in the Pupil's Books.
Vizuální podoba učebnice odpovídá věku dětí, dokáže udržet jejich pozornost, aktivně je zapojuje do výuky. Smysluplné rozdělení učiva do jednotlivých lekcí umožňuje žákům dosáhnout tří úrovní – bronzové, stříbrné a zlaté. Děti vidí, co se naučily, co se naučit chtějí a stanovují si další cíle.
Key features
Podrobné vysvětlení mluvnice, správně strukturované, cílené, podané zajímavým způsobem.

Možnost dosažení bronzové, stříbrné a zlaté úrovně motivuje děti k úsilí o dosažení pokroku.

Podrobné instrukce pro učitele obsahují návrhy dalších aktivit, nabízejí praktická řešení pro mixed- ability classes a výrazně zkracují čas přípravy.

Přípravy na zkoušky a vybudování sebejistoty je dosaženo aktivitami přesně odpovídajícími zkouškám CYLET a KET.

Sekce Grammar Reference prezentují mluvnické struktury ve formě přehledných barevných tabulek, které slouží k opakování před postupem na další úroveň.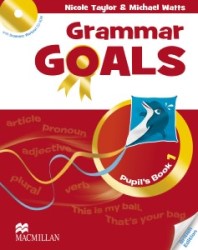 Pupil's Book Pack
The Grammar Goals Pupil's Book packs include a Pupil's Book and a CD-ROM. Each full colour Grammar Goals Pupil's Book has 10 units per level plus a two-page exam practice & writing development section and reference material. The Grammar Workout CD-ROM includes interactive grammar activities, that support the material covered in each unit.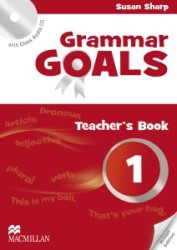 Teacher's Book Pack
The Grammar Goals Teacher's Book Pack includes the Teacher's Book and the Class Audio CD. The Teacher's Book has full lesson notes for every unit of the Pupil's Book, along with extra activities and photocopiable material. The Audio CD includes all the audio necessary and the webcode gives teachers access to a wealth of extra information.