Discover, learn and grow with Hats On Top, the imaginative 4-level course that engages pre-school learners in active discovery of the world around them in English.
Hats On Top is a beautifully designed four-level course for very young children. The central characters are the Hat People, a fun and friendly family who guide children through their first encounters with English. Hats On Top is based on the concept that children come to the classroom with a great deal of world knowledge, and this has strong links to key development areas and school readiness. Learning and exploration are supported and extended digitally through the Discovery Disk, where children can play games, read interactive stories and dance along with the Hat People to interactive songs. For teachers, there is the Interactive Classroom CD containing a Digibook version of the Student's Book for whole-class presentation, and a new website containing a wealth of resources.
Key features
Thanks to CLIL-rich content, while exploring each unit theme and building English language skills, children simultaneously gain knowledge of science, maths, social studies and art.

Hands-on exploration through art projects and dramatic play such as roleplay, the Hats On Top wiggle songs and cut-out puppet conversations add a playful, kinaesthetic dimension to learning.

The carefully planned programme of literacy and basic maths skills development, supported by Early Letters and Early Numbers parallel workbooks, helps children with print and sound awareness, and at the same time master mathematical concepts, geometric shapes and solve problems.

The theme-related stories in each unit are provided in a Big Book format for the whole class to enjoy together, helping teachers focus students' attention and develop a love of reading.

The Teacher's Edition provides detailed three-step lesson plans and with its simple and well-organized structure helps with classroom management and saves preparation time.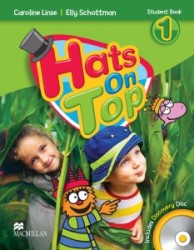 Student's Book Pack
The Hats On Top 1 Student's Book Pack contains nine thematic units, plus a final cumulative review unit focused around an end-of-level play. Each lesson of the first nine units integrates age-appropriate content learning with English language and literacy. The Discovery Disk CD-ROM contains interactive stories, animated songs and language games.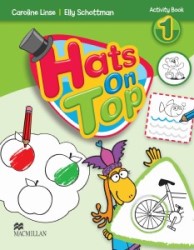 Activity Book
The Hats On Top 1 Activity Book is designed to provide practice on the new language presented in the Student's Book and to build fine motor skills. Each Student Book lesson has at least one supporting Activity Book page allowing children hands-on independent exploration of new language and concepts.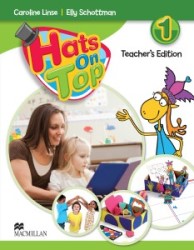 Teacher's Edition
The Hats On Top 1 Teacher's Edition provides detailed teaching notes for each Student Book page and the lesson plans provide for a robust recycling of language introduced in previous lessons, units, and levels. Also, included is an access code for the Hats On Top Teacher Resource Website which contains a wealth of useful information and resources.