Hello Robby Rabbit
A story-based course to inspire young imaginations
Hello Robby Rabbit is a two-level story-based course for very young children learning English for the first time. It is designed to create pleasure and confidence in learning English at a young age.
Children will love learning English with the stories about Robby Rabbit and his friends. The appealing stories with related activities reflect the world of young children and hold their interest with songs, chants, rhymes, dances and musical games forming an integral part of the course. Four activity sheets for each story develop language skills and other skills such as counting, matching and sequencing.
Key features
Robby Rabbit Puppet introduces each lesson with a friendly, familiar presence

Accompanying Story Cards help to tell the stories in a class setting

Large full-colour story cards

A Pupil's Book containing story pages, pull-out activity sheets and stickers

A Teacher's Book containing detailed lesson notes with lots of ideas for classroom routines, games, crafts, songs and chants

Pupil's Book
The Hello Robby Rabbit Pupil's Book has 80 full-colour pages containing six story units as well as three additional Activity Sheets for Halloween, Christmas and Easter. Each story unit comprises four story pages and four Activity sheets. Also, includes Story pages, pull-out activity sheets and stickers to provide an interactive approach.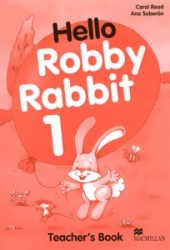 Teacher's Book
The Hello Robby Rabbit Teacher's Book contains an introduction to the Hello Robby Rabbit course providing an overview of the series and each story unit. Also included are twenty ways to use the Robby Rabbit puppet and photocopiable pages which icomprise of evaluation instruments, headbands of main characters and templates for sticker cards.