Learning Stars is a high-level pre-primary course that provides a solid introduction to communicative English along with building reading, writing and spelling skills, ensuring that children have the right capabilities to begin full-time schooling.
Learning Stars builds a foundation in English and other curriculum subjects, giving children the best start to primary school. The course has a lively drama and roleplay element to help young learners practise language in a memorable and fun way, as well as a strong assessment strand to support teachers as they review and check students progress.
Key features
Fun and humorous stories introduce language in an engaging way and the Act It Out sections allow children to gain confidence in communication.

Cross-curricular pages in every unit link with a variety of science-based and other early years topics and concepts exposing children to new vocabulary and broadening their view of the world.

The phonics programme introduces the Animal Alphabet Flashcards to help children memorise initial letter sounds quickly and reinforce letter sound recognition with rhyming stories, songs and chants.

The animated handwriting tool is a useful presentation aid for modelling correct letter and number formation.

The Maths Book links to the topics and themes of the Pupil's Book and Activity Book, providing an introduction to and opportunity for practice of a range of early maths concepts in English.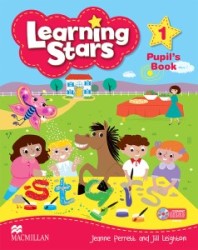 Pupil's Book Pack
The Pupil's Book Pack consists of a Pupil's Book and CD-ROM. The Pupil's Book is beautifully designed, with interesting material to engage children . Stories reinforce the material and 'Act it out' sections allow children to practise the language. The CD-ROM brings an interactive approach with songs, phonics practice and a picture dictionary.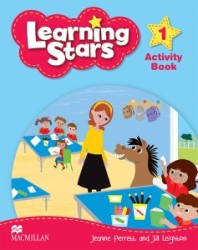 Activity Book
The Activity Book reinforces and extends the language, concepts and skills from the Pupil's Book. The activities recycle and extend language, providing extensive writing practice and additional activities. Designed for use after children have completed the relevant Pupil's Book lesson, the Activity Book can be used in class or for homework.
Maths Book
The Maths Book introduces early number concepts and gets children counting and manipulating numbers in English quickly.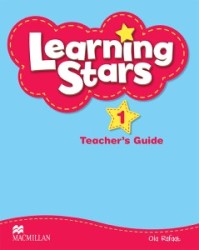 Teacher's Book Pack
The Teacher's Book Pack contains a wealth of additional material which provides helpful support and useful ideas. The Print Teacher's Book provides detailed instructions for each lesson, the accompanying DVD-ROM contains a projectable Digibook which is a great presenting tool and the webcode provides access to the Teacher's Resource Centre.
Flashcards
The Little Learning Stars Flashcards can be used to introduce words, letters and numbers in an interactive way.