Mini Magic
Two-level story-based course for young children learning English for the first time
Mini Magic is a two-level story-based course for young children learning English for the first time. It features easy-to understand stories that immerse children in English. Pupils gain a comprehensive working knowledge of English so that they will be able to use the language they have learnt in active participation. Each level consists of six lively stories which are presented in a variety of ways: cartoon strips, Big Books and interactive posters with stickers.
Key features
Two-level story-based course

Reading and writing are introduced within a graded syllabus

Fun stories encourage the use of extra linguistic resources such as gesture and tone to build self-confidence

Teacher's Book, including syllabus, teachers' notes, ideas for games, songs and rhymes, evaluation sheets

Mini Posters and cut-outs allow children to retell the stories

Flashcards for introducing and practicing vocabulary

Class Audio CD

Evaluation stickers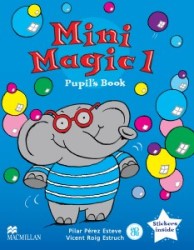 Pupil's Book
Mini Magic Pupil's Book features cut-outs, engaging stories and special units on Christmas and Easter to understand the stories presented in a fun cartoon strip format. The Pupil's Book allows the children to become more involved and active during their learning process by providing them with a range of fun and interactive activities.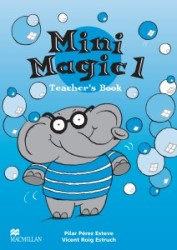 Teacher's Guide
The Mini Magic Teacher's Book contains a full syllabus, teacher's notes, ideas for games, songs and rhymes and evaluation sheets. There are also notes on each unit structure and lessons contained within them, along with practical guidance notes for classroom success. Extra photocopiable reading and writing activities are also included.