Give Me Five!
Collaborate. Communicate. Celebrate success.
Give Me Five! is an engaging 6-level primary course with a strong focus on collaboration and 21st century skills. The dynamic and fun content keeps students motivated to reach learning goals and achieve success in external exams.
Designed to engage and build students' confidence as they learn to communicate, Give Me Five! provides unique opportunities for both free and controlled speaking practice across a range of contexts. Participation, learner autonomy and social competency all take centre stage in order to help young learners reach their true potential.
Key features
The cooperative methodology encourages teamwork and collaboration, helping to create a positive classroom environment and celebrate achievement.

Integrated exam practice and additional resources, including videos of Cambridge English and Trinity mock exams, help familiarise children with exam techniques.

The 21st century learning strand develops skills such as creative and critical thinking.

Memorable songs, adventure stories and classroom games make learning enjoyable.

Navio provides a seamless transition between the print materials and the digital teaching and learning.
Navio is a next-generation digital platform that provides an enriched teaching and learning experience. Click here to learn more about Navio.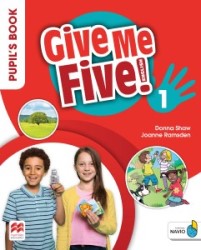 Pupil's Book with Navio App
Give Me Five! Pupil's Book Pack provides tools to engage children in learning key 21st century and collaboration skills. Each pack consists of a Pupil's Book including codes to access the student world experience in the new Navio blended learning platform.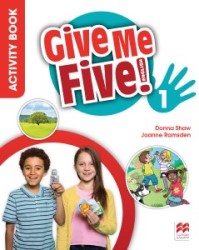 Activity Book
The activity book contains reading, listening and writing practice to complement all the content in the pupil's book. There are also self-assessment sections for every unit and a grammar and vocabulary practice section to consolidate students' learning.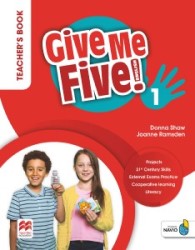 Teacher's Book with Navio App
The Teacher's Book offers a variety of tools to support the teaching of Give Me Five! including access to the Navio App – here teachers are able to find Tap and Teach Lessons, integrated audio and video, Pupil Progress Tracker and the Test Generator. Additionally, the Navio App holds a range of optional extras in the Resource Bank.