This four-level course for young learners aims to build children's confidence and develop their linguistic, social and emotional skills. By making English fun and enjoyable, Here Comes Super Bus lays down the foundations for future language learning and encourages children to use English as a means of real communications. Each unit focuses on a central story which is linked to a topic or theme of special interest to children. The activities and tasks are built around the language and content of the story, to suit the specific needs, interests and psychological characteristics of young learners. Children's interests are centred around themselves and their immediate world.
Here Comes Super Bus offers many opportunities for children to talk and exchange information about themselves, their family, their home and their pets. The syllabus for the course provides a balance between topics, activities, tasks and develops vocabulary and language functions which are relevant to children's communication needs.
Key features
Takes advantage of all opportunities to link English with other subjects including art, music and drama

Writing only appears after the language has been presented and experienced at oral level

A central story helps children to listen and talk about themselves and the world around them through the safety of familiar characters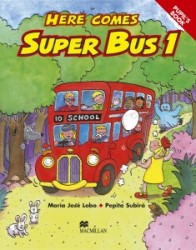 Pupil's Book
The Here Comes Super Bus Pupil's Book contains 64 lively, full-colour pages of varied materials including games, songs, chants, role-plays, crafts, informative-gap activities and listening and reading activities. There are also pages on festivals from throughout the year such as Bonfire Night, Christmas and New Year and April Fool's Day.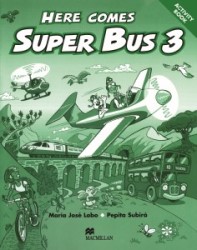 Activity Book
The Here Comes Super Bus Activity Book consists of 78 pages with motivating and purposeful activities designed to consolidate and extend the language presented in the Pupil's Book. Children complete a number of different activities such as drawing, answering questions, completing surveys, solving puzzles and writing short texts.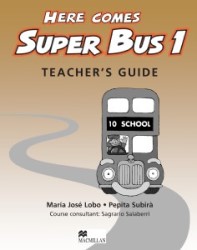 Teacher's Guide
The Here Comes Super Bus Teacher's Guide is an easy-to-follow guide to the materials with general suggestions, aims and step-by-step instructions for each of the activities in Here Comes Super Bus. Other features include main overview of each unit, supplementary activities, answer keys and individual progress grids to track pupil development.