Celebrating 180 years of Macmillan Heritage
When brothers Daniel and Alexander Macmillan founded their publishing company in 1843, they created a place that would recognise and value great contemporary writing. They soon made their mark on the literary world, publishing a range of works by extraordinary authors: Lewis Carroll, Alfred Lord Tennyson, Thomas Hardy and Rudyard Kipling to name but a few. A love of learning, reading and innovation has always been our mission since the very beginning. 180 years later, we are building on the Macmillan brothers' commitment to learning and innovation and celebrating the progress that has been made in education thanks to their vision.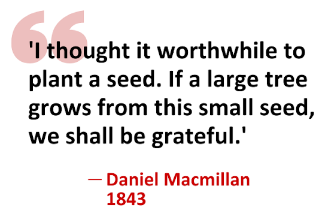 Have you learnt English using Macmillan Education materials? Or maybe you are using them now in your everyday work as a teacher?
Please sign the Macmillan Anniversary Card and let us know how we are helping you advance learning.
.